Whether we like it or not, Brexit is happening. The UK has left the EU and as predicted, a few things are about to change.
Now, change doesn't always have to be so bad, and to (reluctantly) quote 2020, "We're all in this together." (...Did anyone else just get chills?)
Thankfully, at Mortgage Propeller, we keep you up to speed with all Mortgage Industry updates. Read on to discover the effect Brexit will have on House Prices and Mortgage Rates in 2021.
Brexit: The House Price Effect

The following graph shows the average UK house prices in 2020. (Excl. of Northern Ireland.)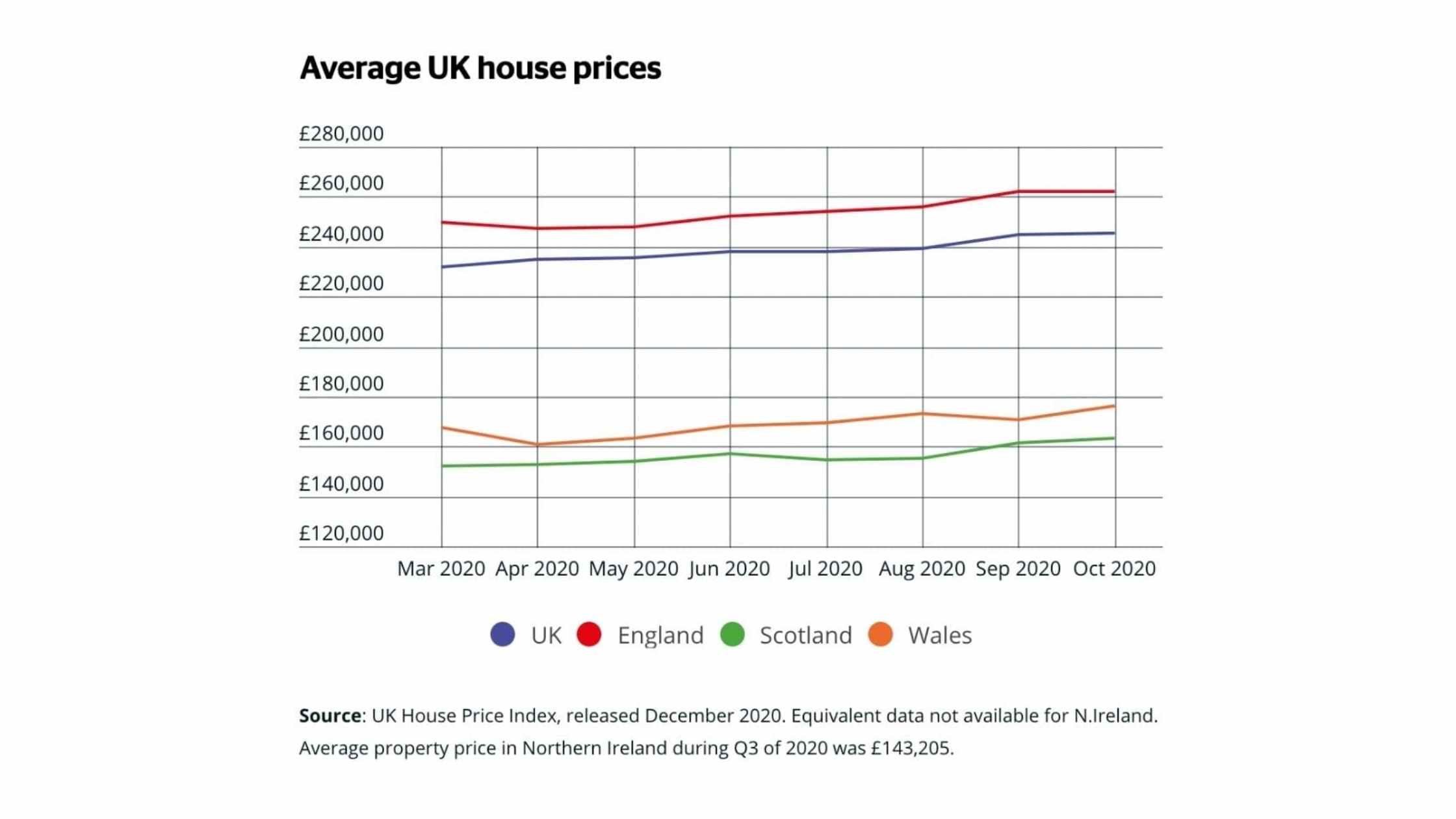 In 2018 and early 2019, house prices fell as Brexit uncertainty increased. Then leading into December 2019's General Election, prices began to rise again.

In 2020, COVID-19 caused disruption across all sectors of the economy - so much so, that the Land and Registry Office had to pause their reports of housing prices during the first lockdown, which only as of December 2020 they are restarting.
Going with the facts, or a slight lack thereof, Which.com has predicted house price 'volatility' or 'price fluctuations' from the middle to the end of 2020 and for the start of 2021. Which makes sense, given "these uncertain times"...
Although, despite lockdowns, the UK property market is still seeing record-breaking buyer figures. Suggesting that buying and selling is likely to continue at this high level into 2021.
These figures have a lot to do with the Stamp Duty Holiday which is set to end in March 2021. The surge in activity during the holiday has caused housing prices to slightly rise over the last few months.
To the same effect, we can predict that when the scheme finishes, house prices will begin to plateau or even decrease in 2021 from March onwards.
However, unemployment levels are also predicted to peak in the following month of April, when the government's Furlough support scheme finishes so it is wise to be mindful of your own situation. Speak to an advisor easily today.
All in all, the Brexit-effect on house prices isn't as huge a factor as was once predicted. Instead, looming job uncertainty and repercussions of the pandemic will be the highest cause of house price changes into 2021, until things become more stable.
Looking later into 2021, Covid-19 vaccinations will hopefully provide the public with more confidence in their 'big choices' and it's likely, this will allow the property market and overall economy a cut of the same confidence for the rest of the year. Things are finally looking up!
---
Connect with award winning FCA Authorised Mortgage and Protection Advisors, receive tailored advice and save on your mortgage.
Get in touch:
Mortgage and Protection Advice is provided by Mortgage Joy Limited (FCA: 955439)
---
Brexit: Mortgage Rate Effects
Looking at The Bank of England from the start of Brexit to 2021,
After the Brexit vote in 2016, The Bank of England cut interest rates to a record low of 0.25% in order to keep the economy ticking.
Rates have risen twice since 2016-2019, bringing them up to 0.75%.
Although, in 2020, The Bank of England cut interest rates back down to 0.25%.
When the pandemic hit, The Bank of England tried to lessen the economic shock and decided to cut interest rates to 0.1% in March 2020. Bringing the cost of borrowing from The Bank of England to its lowest ever level. (There's speculation that we could see negative interest rates at some point.)

How does this affect Mortgage Rates?
The effect this has on Mortgage Rates comes down to mortgage lenders changing their tracker and variable rates by a similar amount as the Bank; which can affect monthly mortgage repayments.
Unless you are on a fixed mortgage rate, a change in bank rates can disrupt your monthly repayments depending on your mortgage terms. Fixed mortgage rates are not affected by the change in bank rates.
Have Fixed Mortgage Rates been affected by Brexit at all?
Since the Brexit vote, fixed mortgage rates have increased and decreased (according to The Bank of England). They're currently similar to what they were at the time of the first vote in 2016.
In June 2016, if you put down a 25% deposit on a property, the average for a two-year fixed-rate mortgage was 1.75%. In October 2020, it was 1.85%.
A larger drop is noticed in five-year fixed rate deals.
For example, in June 2016, a five-year fixed mortgage rate was on average 2.54% but in September 2020, it was 2.02%. (The Bank of England.)
In summary,
Brexit has affected both House Price and Mortgage Rates in 2021 - but perhaps not as extremely as we once might've thought.
We may only be into the first week of January 2021, but already predictions are set for the future relating to the housing market.
A message from Chestersons Estate Agency, "We believe interest rates will remain low and banks will remain keen to lend. The Stamp Duty Holiday will motivate buyers into the Spring."