Could taking on a side hustle help you on your First Time Buyer journey?
Trying to save for a first time buyer mortgage can be a particularly financially difficult and worrying experience. You might have an unexpected bill here or there, or just be generally a bit worried about where you'll get the cash from for your deposit.
Here's home UK side-hustle statistics to get us started
There are 1.1 million people in the UK with a second job or who are self-employed in addition to a primary job.

That's 3% of the working population.

Despite this, 25% of people in the UK claim to have a side hustle.

37% of people in the UK say that their salary alone does not allow them to have a comfortable lifestyle.
With these stats in mind, could taking on a side hustle help you on your First Time Buyer journey? Check out these side hustle ideas to boost your main income, learn new skills, and most importantly, earn some extra cash!
What does 'side hustle' mean?
A side hustle can include any activity you do outside of your regular income to earn extra money.
Starting a side hustle can be a good idea if you're saving for a first time buyer mortgage, or deposit. It can also help you deal with the unexpected payments that come along during the mortgage process.
Although beginning a side hustle can be tricky or time consuming, the benefit of having extra cash is definitely worth it. We also think it is important that you choose a side hustle that fits around your current work schedule, and aligns with your interests. If you're not interested, you won't be invested enough to make money in the long term. Do something you know you will love, or want to learn more about.
Can I use my side hustle to boost my mortgage chances?
In order for your side hustle to be considered as part of our mortgage, you must be registered as self employed. You can do that here.
Having a self employed side hustle can actually boost your chances, if your side hustle is a second job to your annual salary (main hustle). Getting a first time buyer mortgage when you're fully self employed, or have self employed income, can be a bit more difficult. However, it is not impossible, and self employed income can definitely be included in your affordability.
Mortgage lenders need reassurance that your self employed income will be enough to pay your mortgage in the long term. Generally, two years of up to date accounts signed off by an accountant are required for you to be considered by a mortgage lender. However, providing as much information as you can on your income is also helpful. You can find out more in our First Time Buyers Guide.
What are the most popular side hustles in the UK?
MicroBizMag used KWfinder to discover the most popular searches that began with "how to make money…". The results are in the table below: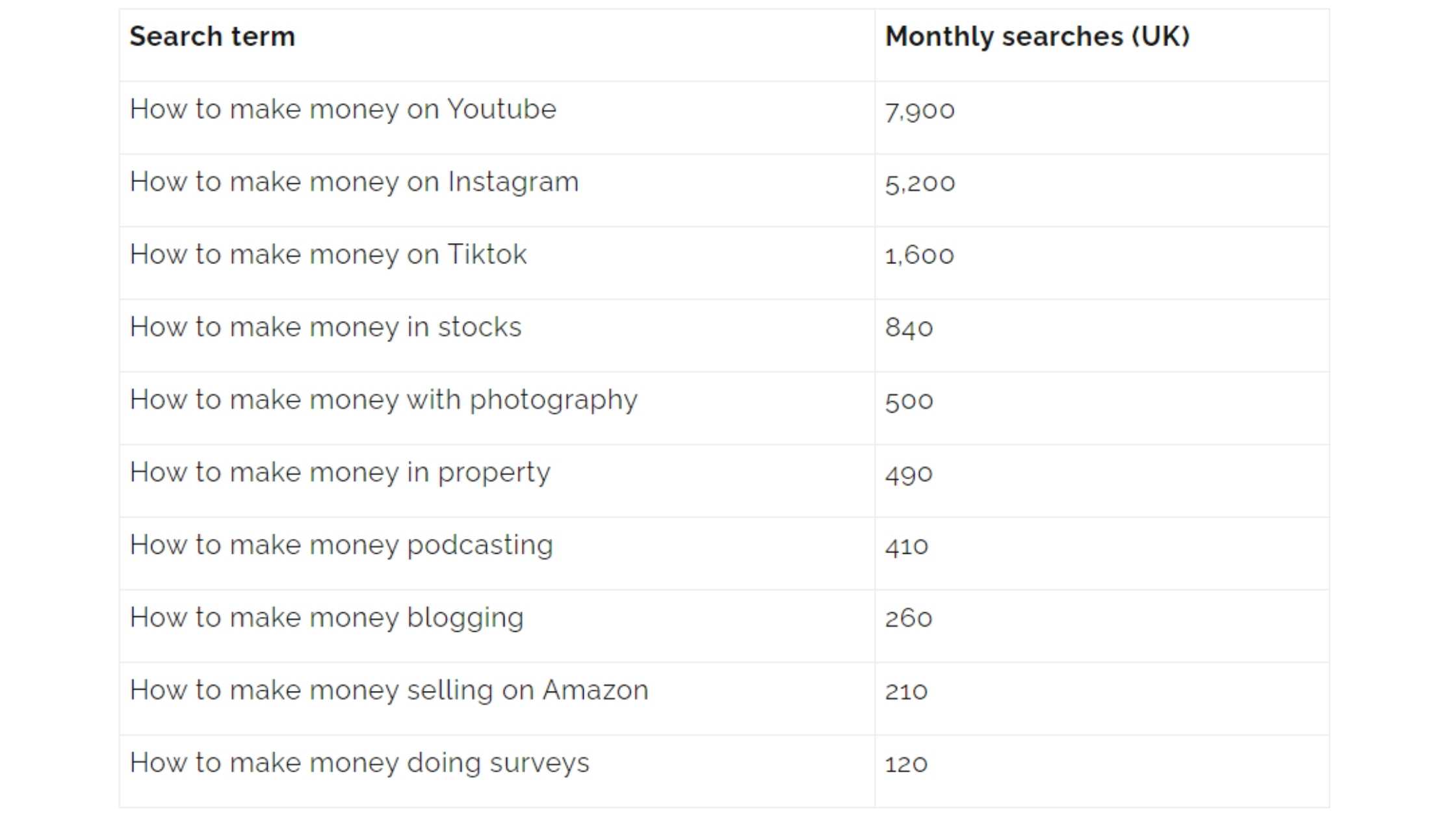 But what Side Hustles can I do?
Here is a list of some side hustles you could start today, and from home, if you are struggling to save for your first time buyer mortgage. We hope this list of ideas inspires you!
Driving
If you can drive, you can make money: it's really that simple! Apps like Uber and Deliveroo allow you to make cash flexibly and around your own hours.
Make sure you check out the regulations for driving with these apps before you seriously consider it as a side hustle, as they often follow strict rules, expectations and restrictions.
Selling Online
Selling clothes online has been around forever, but it's been made a lot easier with the rise of apps like Depop and Vinted. You could also consider using social media, such as facebook marketplace to sell your stuff.
However, you don't just need to sell clothes. You could sell any unwanted personal items such as furniture or tech.
If you're a particularly creative person, you could even consider making something, or crafting. You could sell art on Etsy, knitwear, design prints… You really could do anything!
Instagram is also a great place to sell, especially if you make handmade goods, cook or bake.
Teach or tutor online
If you've got a skill or set of knowledge you can share, this one is definitely worth looking into. It's a side hustle that allows flexibility, as you can do it in your own free time.
If you have an undergraduate or postgraduate degree in a specialist subject, this is definitely one that you could consider.
You could even make and sell your own digital course, or e-book guide. Doing this can potentially cost no money, it just requires time and a bit of extra effort.
Mystery shopping
A mystery shopper goes into shops or restaurants, and documents the experience they had as a customer. Mystery shopping is a great side hustle as it has no upfront cost, which is great if you are a first time buyer trying to save. You can also be an online mystery shopper, so if you're in a part of the UK where non-essential shops are closed- do not worry!
Freelance
Can you write, design or create literally anything? Do you have a specific skill set that you think people could benefit off? If you can, chances are you should think about freelancing.
You can often find work by registering on freelance marketplaces such as fiverr and upwork.
Social Media blogging
Now, this is one which is a bit of a long term, and not for the camera shy, but it could pay off! Blogging is one of those things that many of us think about doing, but don't know where to begin. But we have one piece of advice: just go for it!
Through blogging, you could build your own personal brand by sharing a particular skill-set, or ideas for content that you want to share with the world.
When you have steady engagement, you could reach out to brands or get involved in brand deals, sponsored posts or ads relevant to your content.
Now choosing the side hustle you want is easy, but maintaining a routine and committing to it is hard. Here are some quick tips that will help you stay motivated and gain success.
Establish clear working hours and set a routine.

Create a plan, and set goals.

Tell your employer about your side hustle in case it's a conflict of interest.

Remember that success isn't a race, but a marathon.

Remain focused on the goal: saving money for your first time buyer mortgage!!!
Read our first time buyer guide to find out more about side hustles, self employment, and how they can be included in your affordability.
If you're unsure of how side hustle money will work in terms of your income, you can always speak to a mortgage broker to discuss this further.