If you are a homeowner or thinking about getting on the property ladder you'll have heard about the rapid rise in interest rates which crept up during the pandemic. There is a buzz around the world of mortgages that is only getting louder, as both aspiring house buyers and existing homeowners try to figure out exactly what is going on, and what the rise in interest rates will mean for them.
The last two years have kept us on our toes as the economy continues to be unpredictable. Lockdown, a stock market rally and most concerning, the cost and availability of housing - both rental properties and those for sale - making many anxious.
Soaring prices and inflation have forced central banks across the world to raise their interest rates, exacerbating pressure on homeowners with a mortgage. As interest rates rise - so do the mortgage repayments further increasing the costs of living.
This is not the first time the UK's economy has gone through turmoil, and it won't be the last. Interest rates fluctuate constantly. They reached double-digit figures in the early 70s and gradually decreased to 0.25% in recent years as the Bank of England tried to jump start the economy.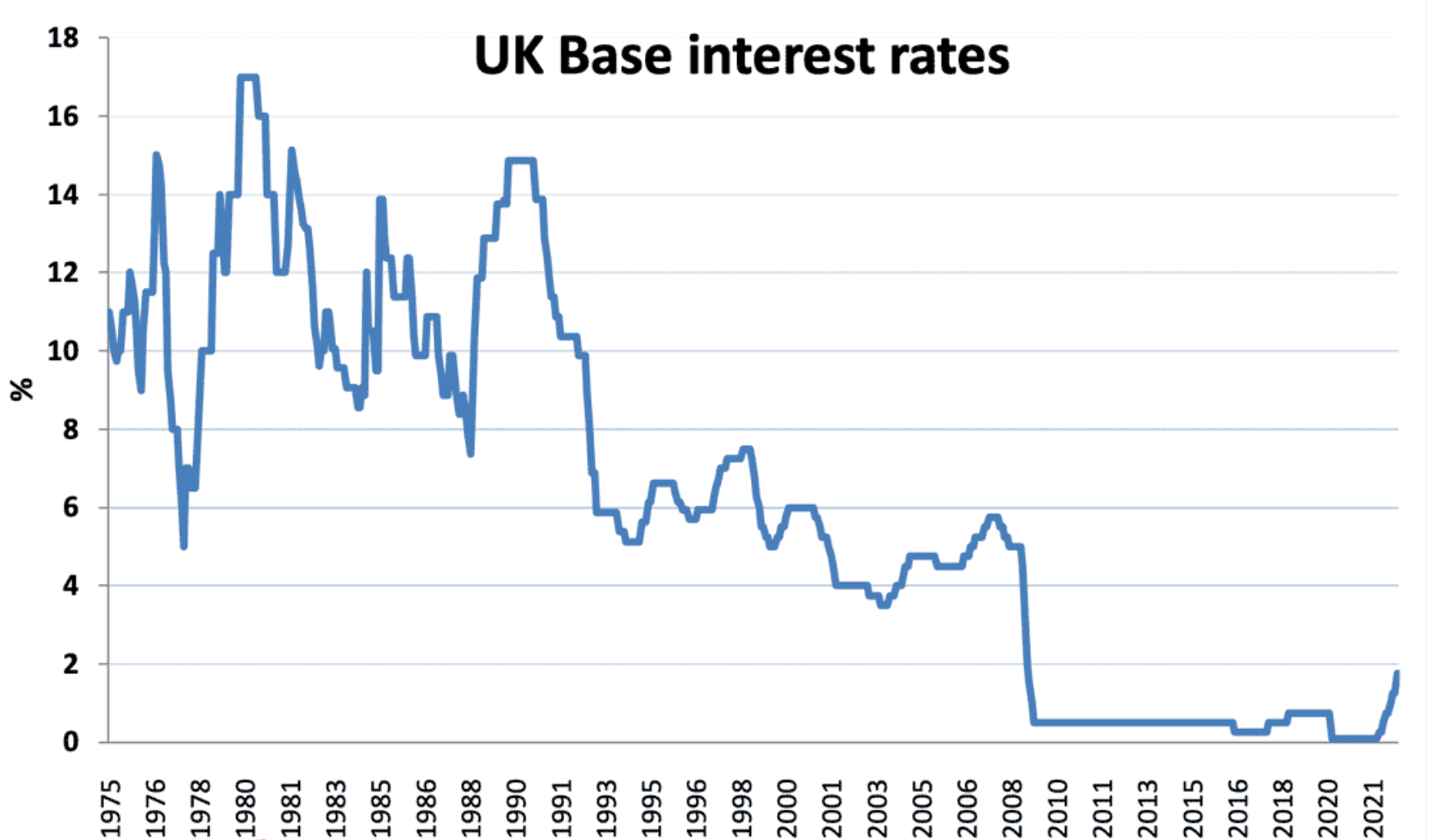 Source: https://www.economicshelp.org/blog/1485/interest-rates/historical-real-interest-rate/
Why are interest rates rising?
Interest rates never remain static for long as they are a factor of the supply and demand of credit which has an impact on inflation. If Central Banks feel inflation is rising too quickly they try to contain it by raising rates. When the base rate goes up it costs more to borrow money, which should slow down the demand for credit. But it also means you can earn more on your savings – so people may be encouraged to borrow less and save more - reducing inflation.
Currently, inflation is also being driven by shortages in the supply chain - raw materials from China impacted by Covid, energy, food, housing supplies all driving up the cost of living and, universally, the cost of goods and services.
In order to combat inflation, the Bank of England increased their 'base rate' - the 'driver' for rates for all mortgage lenders. The 'BOE' have a mandate to keep inflation at 2% and they'll look to use all the tools at their disposal to achieve that - increasing the base rate being one of the most impactful.
How high will interest rates go?
Simple answer. No one knows. The Bank of England monetary policy committee (MPC) meets six to eight times per year when they review the data and debate what the interest rate should be.
This does not necessarily mean that the base rate has to change that often but in times of high inflation expect the base rate to increase rapidly until the MPC feel they have inflation under control. Over the course of the past year, the bank of England base rate has raised rates in December, January, March, April, June and most recently in August. Going from a low of 0.25% to 1.75% currently.
Because rates of inflation are currently around the 8% mark - 6% higher than what they should be, the Bank of England will likely continue increasing its base rate in order to bring inflation down to its target of 2%. UK Interest rates were around 17% in 1979! It's unlikely that we are going to see rates hit such highs any time soon but it puts the situation into perspective.
Is this a bad time to purchase property?
Whether a purchase will work well for you depends on your personal circumstances. If you are purchasing property in order to escape the never ending rental loop, have more freedom or simply having more space for you and your family, buying a property may be the best option for you - assuming you can afford it of course!
A recent report by Zoopla indicated that the average rent payment for a flat within the UK is nearly £1000 per month. In comparison, the average mortgage payment is around £753, so assuming you had the deposit, monthly mortgage repayments are still likely to remain cheaper than your current rent.
Will there be a housing market crash?
Economic disturbances tend to create widespread fear of another house market crash, as more and more people speculate the effects of increasing inflation. It's important to remember that most commentary and opinions are pure speculation.
There are multiple factors that are taken into account when predicting future house prices and any potential house market crash. These include things such as the average property value growth, demand, supply, lending potential, cost of goods, maintenance, and factors relating to the affordability of the average UK citizen.
It's clear the housing market is beginning to experience change, as the rising cost of living and growing interest rates discourage some buyers from entering the market, however, there does not appear to be a clear indication of a house market 'crash', or a repeat of what we had experienced during the 2008 housing market collapse.
Economists such as Morgan Stanley, The Global Leader in Financial Services, state that ''While home price growth might slow, we think it could still remain positive." House prices have recently seen a fall of 0.1%, which is most likely a consequence of lower spending power due to rising interest rates making mortgage repayments higher and the rising costs of raw materials increasing the cost of renovations significantly.
Overall, looking at the bigger picture, there is still a shortage of housing, interest rates are still relatively low, rents are high relative to mortgage payments and the government is struggling to meet the projected no. of houses they need to build in the years ahead. Considering all of that maybe buying a home isn't such a bad idea?